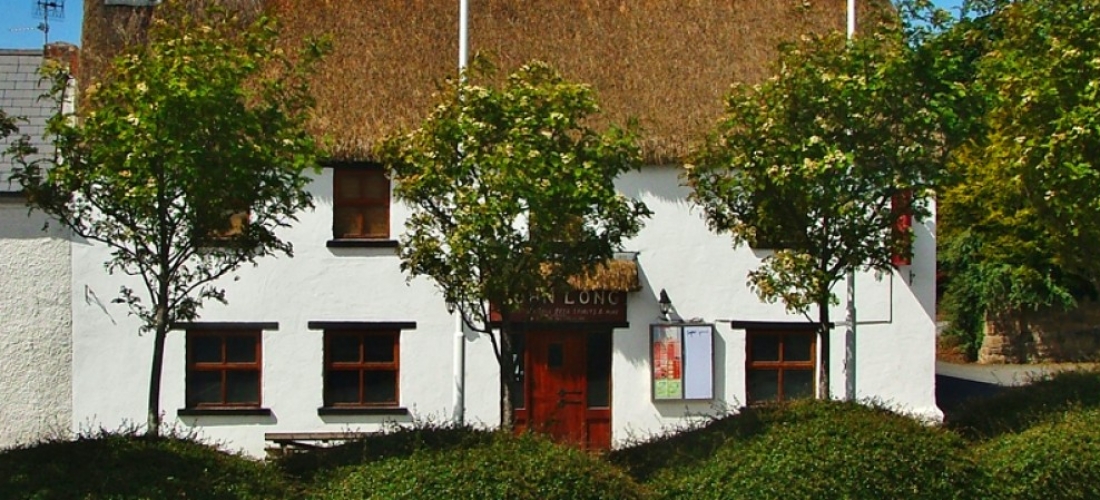 Johns Longs Bar
JOHN LONGS BAR IS AN OLD COUNTY PUB LOCATED JUST FIVE MINUTES OUTSIDE CARLINGFORD.
John Longs Bar a beer garden at the back with fantastic view of the Carlingford Mountains. The front bar has kept its old style feel with a big open fire but with a pool table and Sky TV for the sports fans. If it's a quiet drink your after then Longs bar is a great place to just sit back and enjoy.
John longs Bar was first opened in 1757. The proprietor John long was the first man in the family to build and open the bar. Over the years the business was passed down through four generations of family's. In 1996 the original building was burnt to the ground when the thatched roof caught fire from hot ash blowing from a near bonfire. The remaining shell was knocked down and the current owner who is also named John long rebuilt the building over four years and the pub was reopened in 2001. The roof was thatched again and the original sign that was over the door was restored and placed back over the door.
Now John Longs Bar is a traditional Irish pub from the front with a warm and homely feel with live music through the summer. The rear section of the building (lounge) is currently a disco bar which has a live DJ and drink promotions every second week. The main feature of the bar inside is the massive open fire that occupies a full wall. The stone that was used to hand build the fireplace was the remaining stone that was left after demolishing the old building. It also has two beautiful hand crafted features with a railway sleeper as a mantle.
Contact Details
+353 (0) 42 937 6648